Latest topics
»
Invitation To the Grand Palaces
by
Solarlight and Darksky
Fri Mar 15, 2019 10:35 am
»
Lespernii, the Seedkeeper
by
Azreyus
Fri Mar 15, 2019 5:09 am
»
Status of Tribe Ki'Sha (Saiya)
by
Azreyus
Fri Mar 15, 2019 4:54 am
»
Blue Streak
by
Oculus
Fri Mar 15, 2019 4:40 am
»
Tinuviel the Sarieth *Needs to be Approved*
by
Azreyus
Fri Mar 15, 2019 3:56 am
»
Sly, the Bladed Apothecary [An app that's probably never going to be approved but doing it for lols]A
by
Azreyus
Fri Mar 15, 2019 3:18 am
»
Trials and Tribulations
by
Ngozi
Wed Mar 13, 2019 1:15 pm
»
Hey hot stuff, looking for the discord
by
Artemise
Wed Mar 13, 2019 2:20 am
»
Tharasis
by
Tharasis
Sat Mar 09, 2019 6:04 am
»
Play Nicely [Private/Prasi]
by
Azreyus
Sat Mar 09, 2019 1:40 am
»
Rii (WIP)
by
Rii
Sat Mar 09, 2019 1:14 am
»
Making the best of a storm (OPEN)
by
Sazoc
Sat Mar 09, 2019 12:45 am
»
Dragon Tribe Information
by
Prasi
Fri Mar 08, 2019 11:40 pm
»
Sazoc Atze
by
Savan
Fri Mar 08, 2019 11:25 pm
»
An Aspiring Adviser [Private - Solarlight and Darksky] - Topic Ended
by
Azreyus
Fri Mar 08, 2019 9:55 pm
Top posting users this month

Silhouette, The Wandering Shadow
Name: Silhouette
Gender: Female
Type: Wyvern~Type:Nordic
Species: Legendary Urban Brimstone Inferno (however, she has become an "Ebony Nyghtshade" from her lack of fire)
Age: 774 years of age (appearance wise, but mentally…she is a lot younger than most because of her time being "dearly departed".)
Date of Birth: She was reborn from the underworld in late December (however, her birthday, had she survived…would've been in mid-July)
Personality
Analytical Side
Silhouette's analytical side is a seasoned and fearless side of the dragoness. Time in infinite darkness and torture of all sorts has hardened out Silhouette's sense of "fight or flight". Silhouette's analytical personality is very straight to the point, and when she is in her planning mood…nothing can distract her. Not even her sister or her mate. A more strategic thinker, than one of brute force and hasty thinking…Silhouette is one that will often think more rationally in situations of dire peril. Why? This powerful sense of calmness and this sense of stone-faced bravery in the face of horrible danger make her a rather formidable opponent, even if the enemy is much stronger than herself. This side came from her time in the Underworld…in the land of the dead…she faced many horrid things there. And now, it takes more than a raging enemy to make her lose her cool.  
Emotional Side
The side that is more commonly seen by others from Silhouette is her emotional side. Silhouette's real nature is shy, kind, accommodating, and easy to get along with. She is loyal to her family, being the one who will give up her left wing to help her family, or a stranger. Empathetic, and sweet…the shadow dragoness is not one that would hurt anyone out of spite, jealousy, or rage. To those she is unfamiliar with, she is kind…but very quiet and prefers to study them as opposed to talking to them. Those she is familiar with see a different side of her, a side that is happy, amiable, and is more than happy to talk to anyone about anything. One other part of her, is that she is one of the best listeners. She will listen to a life story, or a traumatic experience and give the tale the same amount of undivided attention.
Hobbies:
Reading
Having no light in the Underworld, and being exposed to only horrible things…Silhouette realized that one of her favorite things to do is reading. She loves reading stories with happy endings, or if it starts out bad than finding a light at the end of a tunnel.
Making Artwork
A creative mind is a truly beautiful mind, or so those have said to Silhouette. A true and pure smile will often appear when she can use her mind to create intricate patterns on parchment or use her claws to draw on the surface of rocks or using the natural clay to make sculptures of those she loves.
Stargazing
Stars were the only light that the dark dragoness knew Starlight is like the light that taunted her…so close and yet so far away. However, it also was motivation for her to try and see the world beyond the shadows that were once so familiar and comforting to her. The starlight was the light that eased her into the other light of the world, keeping her in her comfortable shadowy world, and yet lighting up the night with the help of the moon so that she could understand what truly was around her…without being overwhelmed like a sudden migraine headache.
Likes:
Being Airborne
The Underworld had no air, and thus no wind. Though Silhouette was born a wyvern, she was unable to truly spread her wings and fly like the beauty she was. However, once she earned back her life…she became addicted to the feeling of being the wind, and the freedom that came with it.
The Night
As a fire dragon with no fire…she was more accustomed to the darkness as opposed to the sunlight of her species. Eventually, when she learns to use fire…the fire is only cool colors…she has no light in her fire…and that is because she was reborn at night…with no sun, no moon, no stars…just darkness.
Spending Time With Those She Loves
Years and years in isolation tend to make someone very clingy to the bonds they create with others. This is 100% true for Silhouette, considering how long she spent watching the dragons in the living world and not being able to interact with much of anyone at all. She watched her beloved sister, the one who is now her daughter, and the one whom is her most beloved mate…and now that they share their love with her…she is addicted to it. The thought of them disappearing, or leaving this world is almost unthinkable to her. Doing anything, even training for battle, with her loved ones is enough to make her happier than anyone in the world.
Dislikes:
Violence
Knowing what violence can do to dragons, Silhouette has become a pacifist. This does NOT mean that she wouldn't fight to protect those that need it, but the horrors of things she has seen on the land of the living and the Underworld have darkened her views on violence, to her…there is always another way.
Sudden Bright Lights
Silhouette is a bit sensitive when it comes to light…that's only because of her many years in complete darkness and relying on her other senses to sense the danger. Bright lights are a major distraction and can give her headaches if she is not careful…like a migraine.
Being The Center of Attention
Silhouette is shy by nature, and having attention on her is not one of her most favorite things in the world. In fact, she hates it…so much so that if she felt herself getting into the position of being the center of attention…she will often turn invisible or VERY vividly make sure that the attention goes to her, more appreciative, older sister, Sonus Decessus.
Fears:
~Monophobia: Fear of being alone
~Athazagoraphobia. The fear of being forgotten, ignored, or abandoned
~Claustraphobia: The fear of tight spaces and being trapped with no way out.
~The creature in the Underworld that took charge of her torture and her transformation into the dragon of shadows.
Origin, Culture, and Family
Place of Origin:
Near Suji Pun Lake
Tribe:
Stormcaller
Position:
Scholar
Language:
Universal language; she can learn other languages rather quick and easily through shadowing the words and mouth movements of those around her.
Home:
Silhouette used to live alone, but she soon had to find a place to settle and raise her daughter, Senka. She did this wherever she could find a safe place that would not harm her, nor her daughter. Upon finding Sonus again, Silhouette now lives where Sonus is…or is near.
Parents:
N/A
Siblings:
Sonus Decessus
Relatives:
Sister-in-law: Ardent
Mate:
N/A
Offspring:
Senka, a young dark dragoness, is her adopted daughter.
History:
ilhouette was born the younger twin of Sonus Decessus, however…something happened to her while she was inside the egg that resided beside Sonus's. It was a parasitic reaction of sorts, Sonus's fire body leeched all of the flame inside of Silhouette out of her body. This stripped Silhouette of fire and her life, so she may have hatched by their parents physically breaking her egg…but she was not alive. Silhouette was a stillborn, dead at birth. Physically at least, but her soul and her mind were ever so alive…and they did live as her form was taken to the underworld. There she became the opposite of light, the epitome of darkness. To get to this point, the beings of the underworld tortured her mind, body, and soul…forcing the once bright dragoness's heart to turn black. After she was too strong with her powers to continue being in the Underworld, the female broke free from the bindings that held her and soon realized that through her own strength, she was now alive. Living at the age she was meant to be…or at least physically.
She traveled in hiding, only coming out to fish or to fight…other than that, she was fearful of the outside world…never having been part of it. She has seen those around, things like love…joy…hope…all of those things make her want to continue living in this realm. Her sister and her child are her sole reasons for remaining in this realm, if not for them…then she would not want to feel all of the things that her now beating heart feels. Her personality changes when, to ensure her sister's happiness with someone who loves her…forces Silhouette to make the choice to return to the place that she fears more than anything in the world and look for the secrets to her sister's cure. The Underworld makes her numb, mute, even withdrawn from all around her. She has been there before, and fears it more than anything, but her love for her daughter and her sister is too great for her to let that stop her from trying to ensure the happiness of everyone around her.
Physical Appearance and Accessories
Height:
50 ft. tall
Length:
100 ft. tall
Wingspan:
250 ft. wingspan
Scale/Fur/Feathers:
Like most darkness dragons, Silhouette's scales are dark colored. However, what most won't see unless they are closer is that the miniscule designs on her scales will change with the nighttime sky. Constellations, planets, the moon…everything in the Solar system where Silhouette stands is reflected in her ebony scales. However, because of this…her scales aren't black, like originally thought…for they can have navy, purple, and whatever is being reflected in them. It truly is a sight to see when she flies through the air, though at night…she is almost invisible unless one was specifically looking for her closely.
Eyes:
Silhouette's eyes are rather unusual…like Sonus, she has one eye that is one color and another eye that is another color. This is another way for others on the outside to see that they are siblings. Her left eye is silver, almost the exact shade of a full moon on a winter's night. Her right eye is a shade of brilliant blue and both of them radiate light when she is happy, contrary to her dark exterior.
Accessories:
N/A
Armor:
Silhouette wears no armor.
Horns/Spikes:
Silhouette looks pretty typical of a wyvern. However, there are no horns but spikes that go along her head, and down to the tail. These are rather sharp, hence why no one would dare ride her…these sharp spines would break through any saddle and leave the rider with a puncture wound.  The spines on her tail will flare out when she is angered; making a spiked weapon that she can shoot spines from, like a porcupine.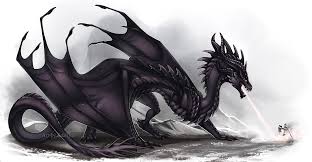 [/url]
Abilities and Strengths
Abilities:
Shadow Transformation
Silhouette has the ability to turn into a shadow. She can remain hidden, unless something makes her cast a shadow. She won't become visible, but…she cannot hide the fact of her own shadow. Or if there are no shadows, she cannot use this ability. Something has to cast a shadow in order for this to work. If she gets attacked, Silhouette will become visible upon the contact. Attacks won't go through her, or anything like that. She can't travel far, only about 3 feet and then she must use another shadow to almost "jump" from one to the next. She can remain in this form for approximately 3 posts in the daytime, and up to 4 posts in the night.
Limited Invisibility
Silhouette has the ability to turn invisible, if an attack were to hit here…she would take the damage the same since nothing will go through her. This ability hides her entirely, but she can only hold this form for one post before beginning to become visible in tiny intervals. Also, she can't go through things…so she isn't like a ghost…but rather like… she can't be seen, but if she bumps into something she flickers like a light for about 1 post before she can turn invisible again. She can stay invisible for about 2 posts, in intervals, but this also varies on the terrain and her coordination. However, only her form is invisible...her footprints and any sounds she makes are not invisible, she can be heard...and fallen scales and such can be seen.
Medical Knowledge and Shadow Healing
Silhouette uses her shadows to heal. She can use medicines and knows herbal remedies for common things like minor headaches, fevers, or stomach problems (like a stomach virus). The shadow healing requires some energy on Silhouette's part, and using it too much will exhaust her. It will drain her energy and make her almost too lethargic to stay awake, but she can function. Her shadow healing envelops wounds or problem areas in a black fog that slowly seeps into the wounds. It repairs the damage, but the infection or injury still remain…this is more of prevention from further problem
Strengths:
Intelligent:
Silhouette is rather gifted from being in the Underworld for most of her life. It taught her many things and she is able to understand and read most languages...even the forbidden ones. She is also very gifted at logical puzzles and riddles, but that came just from Silhouette being Silhouette.
Insightful:
Silhouette is empathetic and can often tell when others are feeling off about something going on in their lives. Or even if they are sick or pregnant, a sensitive soul that takes things to heart...both a blessing and a curse. But, she often uses this insight to help others when they are too weak or too proud to ask for help. If she is close to the person...she can feel their presence stronger than if it were a stranger.
.
Spying:
Her shadow abilities make her a rather good spy; however with the weaknesses and catches involved in shadow magic...this can be a blessing and a curse. If she has to spy for a little bit, or has breaks in between...then she is a rather effective spy.
Weaknesses:
Light Sensitivity
The light in extremes, like sudden sparks or raging sunlight is a great hindrance to Silhouette's effectiveness in fighting and traveling. Silhouette is like a person who has chronic migraines, strong lights that take her by surprise create the symptoms of a migraine. The way she presents her symptoms of "chronic migraine"
Weak Heart
The trauma of the Underworld left Silhouette with a heart that is weak, she can't overexert herself which is why she often will fight very little. Silhouette can't push her endurance too hard, as this makes her risk getting a heart attack or falling into cardiac arrest. Despite her power, her size, Silhouette is still very delicate.
Temperature Extremes
Silhouette has a harder time with temperature regulation than most other dragons. The Underworld has no temperature…so, therefore she never learned how to adjust to extreme hots and colds.
Inner Energy Imbalances
Due to Silhouette's limited time in the "real" world, she is not as strong in the immune system as other dragons. Often, this makes her lose her ability to function normally. Throwing off her energy means that her immune system gradually weakens, making her vulnerable to fevers, colds, etc. When her energy is stronger, say at night, then she is much better at keeping herself healthy. She's not sickly, but has to be careful when dealing with new environments and temperature extremes.
Fighting Style:
Being a wyvern wings, Silhouette's preferred fighting style is done in the air. Despite that, she is also quite skilled on the ground as well. She attributes this to her talon-sharp claws on her feet. Though, there are more things she can use. Silhouette is a master of surprise, able to shift her physical shape into a shadow and move through shadows around her. However, the catch to this is the amount of energy that is used for her to activate this skill. It drains her, making her lethargic and even a bit disoriented. She can turn invisible as well, but all of her abilities of fighting are better in daylight…while her spying and teleportation skills are better under the cover of night. Her fighting style changes slightly with her learning the hellfire that she will only learn to ease her sister's plight.
Magic:
Silhouette possesses no magic.
For clarification, when invisible, if she moves, footprints can be seen and her feet would flicker, depending on how fast/hard she steps?

~1/2 Approved~



Status

:


Posts

: 615


Join date

: 2016-09-06



The only thing I have to say is to edit your abilities so that, instead of periods of time, put posts. For example, if your invisibility only lasts a minute, put it only lasts 2 posts, because time can go by differently depending on the thread you're in. After that I believe you can be approved~

Bump when finished.



Status

:


Posts

: 359


Join date

: 2016-09-06


Rank

: Kuz'a



Silhouette, The Wandering Shadow

Name: Silhouette
Gender: Female
Type: Wyvern~Type:Nordic
Species: Legendary Urban Brimstone Inferno (however, she has become an "Ebony Nyghtshade" from her lack of fire)
Age: 774 years of age (appearance wise, but mentally…she is a lot younger than most because of her time being "dearly departed".)
Date of Birth: She was reborn from the underworld in late December (however, her birthday, had she survived…would've been in mid-July)

Personality

Analytical Side
Silhouette's analytical side is a seasoned and fearless side of the dragoness. Time in infinite darkness and torture of all sorts has hardened out Silhouette's sense of "fight or flight". Silhouette's analytical personality is very straight to the point, and when she is in her planning mood…nothing can distract her. Not even her sister or her mate. A more strategic thinker, than one of brute force and hasty thinking…Silhouette is one that will often think more rationally in situations of dire peril. Why? This powerful sense of calmness and this sense of stone-faced bravery in the face of horrible danger make her a rather formidable opponent, even if the enemy is much stronger than herself. This side came from her time in the Underworld…in the land of the dead…she faced many horrid things there. And now, it takes more than a raging enemy to make her lose her cool.  

Emotional Side
The side that is more commonly seen by others from Silhouette is her emotional side. Silhouette's real nature is shy, kind, accommodating, and easy to get along with. She is loyal to her family, being the one who will give up her left wing to help her family, or a stranger. Empathetic, and sweet…the shadow dragoness is not one that would hurt anyone out of spite, jealousy, or rage. To those she is unfamiliar with, she is kind…but very quiet and prefers to study them as opposed to talking to them. Those she is familiar with see a different side of her, a side that is happy, amiable, and is more than happy to talk to anyone about anything. One other part of her, is that she is one of the best listeners. She will listen to a life story, or a traumatic experience and give the tale the same amount of undivided attention.

Hobbies:
Reading
Having no light in the Underworld, and being exposed to only horrible things…Silhouette realized that one of her favorite things to do is reading. She loves reading stories with happy endings, or if it starts out bad than finding a light at the end of a tunnel.

Making Artwork
A creative mind is a truly beautiful mind, or so those have said to Silhouette. A true and pure smile will often appear when she can use her mind to create intricate patterns on parchment or use her claws to draw on the surface of rocks or using the natural clay to make sculptures of those she loves.

Stargazing
Stars were the only light that the dark dragoness knew Starlight is like the light that taunted her…so close and yet so far away. However, it also was motivation for her to try and see the world beyond the shadows that were once so familiar and comforting to her. The starlight was the light that eased her into the other light of the world, keeping her in her comfortable shadowy world, and yet lighting up the night with the help of the moon so that she could understand what truly was around her…without being overwhelmed like a sudden migraine headache.

Likes:

Being Airborne
The Underworld had no air, and thus no wind. Though Silhouette was born a wyvern, she was unable to truly spread her wings and fly like the beauty she was. However, once she earned back her life…she became addicted to the feeling of being the wind, and the freedom that came with it.

The Night
As a fire dragon with no fire…she was more accustomed to the darkness as opposed to the sunlight of her species. Eventually, when she learns to use fire…the fire is only cool colors…she has no light in her fire…and that is because she was reborn at night…with no sun, no moon, no stars…just darkness.

Spending Time With Those She Loves
Years and years in isolation tend to make someone very clingy to the bonds they create with others. This is 100% true for Silhouette, considering how long she spent watching the dragons in the living world and not being able to interact with much of anyone at all. She watched her beloved sister, the one who is now her daughter, and the one whom is her most beloved mate…and now that they share their love with her…she is addicted to it. The thought of them disappearing, or leaving this world is almost unthinkable to her. Doing anything, even training for battle, with her loved ones is enough to make her happier than anyone in the world.

Dislikes:

Violence
Knowing what violence can do to dragons, Silhouette has become a pacifist. This does NOT mean that she wouldn't fight to protect those that need it, but the horrors of things she has seen on the land of the living and the Underworld have darkened her views on violence, to her…there is always another way.

Sudden Bright Lights
Silhouette is a bit sensitive when it comes to light…that's only because of her many years in complete darkness and relying on her other senses to sense the danger. Bright lights are a major distraction and can give her headaches if she is not careful…like a migraine.

Being The Center of Attention
Silhouette is shy by nature, and having attention on her is not one of her most favorite things in the world. In fact, she hates it…so much so that if she felt herself getting into the position of being the center of attention…she will often turn invisible or VERY vividly make sure that the attention goes to her, more appreciative, older sister, Sonus Decessus.

Fears:
~Monophobia: Fear of being alone
~Athazagoraphobia. The fear of being forgotten, ignored, or abandoned
~Claustraphobia: The fear of tight spaces and being trapped with no way out.
~The creature in the Underworld that took charge of her torture and her transformation into the dragon of shadows.



Origin, Culture, and Family


Place of Origin:
Near Suji Pun Lake

Tribe:
Stormcaller

Position:
Scholar

Language:
Universal language; she can learn other languages rather quick and easily through shadowing the words and mouth movements of those around her.

Home:
Silhouette used to live alone, but she soon had to find a place to settle and raise her daughter, Senka. She did this wherever she could find a safe place that would not harm her, nor her daughter. Upon finding Sonus again, Silhouette now lives where Sonus is…or is near.

Parents:
N/A

Siblings:
Sonus Decessus

Relatives:
Sister-in-law: Ardent

Mate:
Rihzome

Offspring:
Senka, a young dark dragoness, is her adopted daughter.

History:
ilhouette was born the younger twin of Sonus Decessus, however…something happened to her while she was inside the egg that resided beside Sonus's. It was a parasitic reaction of sorts, Sonus's fire body leeched all of the flame inside of Silhouette out of her body. This stripped Silhouette of fire and her life, so she may have hatched by their parents physically breaking her egg…but she was not alive. Silhouette was a stillborn, dead at birth. Physically at least, but her soul and her mind were ever so alive…and they did live as her form was taken to the underworld. There she became the opposite of light, the epitome of darkness. To get to this point, the beings of the underworld tortured her mind, body, and soul…forcing the once bright dragoness's heart to turn black. After she was too strong with her powers to continue being in the Underworld, the female broke free from the bindings that held her and soon realized that through her own strength, she was now alive. Living at the age she was meant to be…or at least physically.
She traveled in hiding, only coming out to fish or to fight…other than that, she was fearful of the outside world…never having been part of it. She has seen those around, things like love…joy…hope…all of those things make her want to continue living in this realm. Her sister and her child are her sole reasons for remaining in this realm, if not for them…then she would not want to feel all of the things that her now beating heart feels. Her personality changes when, to ensure her sister's happiness with someone who loves her…forces Silhouette to make the choice to return to the place that she fears more than anything in the world and look for the secrets to her sister's cure. The Underworld makes her numb, mute, even withdrawn from all around her. She has been there before, and fears it more than anything, but her love for her daughter and her sister is too great for her to let that stop her from trying to ensure the happiness of everyone around her.

Physical Appearance and Accessories


Height:
50 ft. tall

Length:
100 ft. tall

Wingspan:
250 ft. wingspan

Scale/Fur/Feathers:
Like most darkness dragons, Silhouette's scales are dark colored. However, what most won't see unless they are closer is that the miniscule designs on her scales will change with the nighttime sky. Constellations, planets, the moon…everything in the Solar system where Silhouette stands is reflected in her ebony scales. However, because of this…her scales aren't black, like originally thought…for they can have navy, purple, and whatever is being reflected in them. It truly is a sight to see when she flies through the air, though at night…she is almost invisible unless one was specifically looking for her closely.

Eyes:
Silhouette's eyes are rather unusual…like Sonus, she has one eye that is one color and another eye that is another color. This is another way for others on the outside to see that they are siblings. Her left eye is silver, almost the exact shade of a full moon on a winter's night. Her right eye is a shade of brilliant blue and both of them radiate light when she is happy, contrary to her dark exterior.

Accessories:
N/A

Armor:
Silhouette wears no armor.

Horns/Spikes:
Silhouette looks pretty typical of a wyvern. However, there are no horns but spikes that go along her head, and down to the tail. These are rather sharp, hence why no one would dare ride her…these sharp spines would break through any saddle and leave the rider with a puncture wound.  The spines on her tail will flare out when she is angered; making a spiked weapon that she can shoot spines from, like a porcupine.

Abilities and Strengths


Abilities:

Shadow Transformation
Silhouette has the ability to turn into a shadow. She can remain hidden, unless something makes her cast a shadow. She won't become visible, but…she cannot hide the fact of her own shadow. Or if there are no shadows, she cannot use this ability. Something has to cast a shadow in order for this to work. If she gets attacked, Silhouette will become visible upon the contact. Attacks won't go through her, or anything like that. She can't travel far, only about 3 feet and then she must use another shadow to almost "jump" from one to the next. She can remain in this form for approximately 3 posts in the daytime, and up to 4 posts in the night.

Limited Invisibility
Silhouette has the ability to turn invisible, if an attack were to hit here…she would take the damage the same since nothing will go through her. This ability hides her entirely, but she can only hold this form for one post before beginning to become visible in tiny intervals. Also, she can't go through things…so she isn't like a ghost…but rather like… she can't be seen, but if she bumps into something she flickers like a light for about 1 post before she can turn invisible again. She can stay invisible for about 2 posts, in intervals, but this also varies on the terrain and her coordination. However, only her form is invisible...her footprints and any sounds she makes are not invisible, she can be heard...and fallen scales and such can be seen.

Medical Knowledge and Shadow Healing
Silhouette uses her shadows to heal. She can use medicines and knows herbal remedies for common things like minor headaches, fevers, or stomach problems (like a stomach virus). The shadow healing requires some energy on Silhouette's part, and using it too much will exhaust her. It will drain her energy and make her almost too lethargic to stay awake, but she can function. Her shadow healing envelops wounds or problem areas in a black fog that slowly seeps into the wounds. It repairs the damage, but the infection or injury still remain…this is more of prevention from further problem

Strengths:
Intelligent:
Silhouette is rather gifted from being in the Underworld for most of her life. It taught her many things and she is able to understand and read most languages...even the forbidden ones. She is also very gifted at logical puzzles and riddles, but that came just from Silhouette being Silhouette.

Insightful:
Silhouette is empathetic and can often tell when others are feeling off about something going on in their lives. Or even if they are sick or pregnant, a sensitive soul that takes things to heart...both a blessing and a curse. But, she often uses this insight to help others when they are too weak or too proud to ask for help. If she is close to the person...she can feel their presence stronger than if it were a stranger.

.
Spying:
Her shadow abilities make her a rather good spy; however with the weaknesses and catches involved in shadow magic...this can be a blessing and a curse. If she has to spy for a little bit, or has breaks in between...then she is a rather effective spy.

Weaknesses:

Light Sensitivity
The light in extremes, like sudden sparks or raging sunlight is a great hindrance to Silhouette's effectiveness in fighting and traveling. Silhouette is like a person who has chronic migraines, strong lights that take her by surprise create the symptoms of a migraine. The way she presents her symptoms of "chronic migraine"

Weak Heart
Silhouette's heart is both powerful and weak. She has a lot of endurance, but she has to be careful. Too much exertion could send her into a "heart attack" or "cardiac arrest" depending on the scenario. This also gives her a weak spot in her chest.

Temperature Extremes
Silhouette has a harder time with temperature regulation than most other dragons. The Underworld has no temperature…so, therefore she never learned how to adjust to extreme hots and colds.

Inner Energy Imbalances
Due to Silhouette's limited time in the "real" world, she is not as strong in the immune system as other dragons. Often, this makes her lose her ability to keep her immune system strong. She is powerful, but she is also extremely delicate, frequently getting ill, but coming back strong and healthy.



Fighting Style:
Being a wyvern wings, Silhouette's preferred fighting style is done in the air. Despite that, she is also quite skilled on the ground as well. She attributes this to her talon-sharp claws on her feet. Though, there are more things she can use. Silhouette is a master of surprise, able to shift her physical shape into a shadow and move through shadows around her. However, the catch to this is the amount of energy that is used for her to activate this skill. It drains her, making her lethargic and even a bit disoriented. She can turn invisible as well, but all of her abilities of fighting are better in daylight…while her spying and teleportation skills are better under the cover of night. Her fighting style changes slightly with her learning the hellfire that she will only learn to ease her sister's plight.

Magic:
Silhouette possesses no magic.

(Edits are (hopefully) blue)
~Bump~
(My pictures Dx, but that's okay right?)
2/2 Approved! For future reference Sil, to edit a post, just click the edit button in the top right corner. <3



Status

:


Posts

: 359


Join date

: 2016-09-06


Rank

: Kuz'a




---
Permissions in this forum:
You
cannot
reply to topics in this forum