Latest topics
»
Head AuSitter
by
Ngozi
Today at 5:31 am
»
Two Rulers for One. (Open, Stormcallers.)
by
Solarlight and Darksky
Yesterday at 9:42 pm
»
Bond of Power (Private with Athena)
by
Artemise
Mon Jun 18, 2018 11:27 pm
»
Savan [WIP]
by
Savan
Mon Jun 18, 2018 4:40 pm
»
Day and Night
by
Solarlight and Darksky
Mon Jun 18, 2018 1:30 pm
»
What The Heck (Priv/Ayato)
by
Athena
Tue Jun 12, 2018 6:45 am
»
An Aspiring Adviser [Private - Solarlight and Darksky]
by
Solarlight and Darksky
Sun Jun 10, 2018 3:32 pm
»
Strawhat // One Piece AU
by Guest Sun Jun 10, 2018 2:05 pm
»
A casual meeting [Private - Oculus / Ask before joining]
by
Artemise
Sat Jun 09, 2018 9:54 pm
»
Athena, Ice Wyvern (Application)
by
Artemise
Fri Jun 08, 2018 6:01 am
»
Zollunis, The Life Giver (Needs Approval)
by
Artemise
Fri Jun 08, 2018 5:32 am
»
Character Info
by
Oculus
Wed Jun 06, 2018 11:39 pm
»
Out and About. (Open to all)
by
Arctic Kaiju
Sun Jun 03, 2018 9:12 pm
»
Ask the Dragons
by
Solarlight and Darksky
Sun Jun 03, 2018 9:01 pm
»
Ayato
by
Vortex
Sat Jun 02, 2018 3:45 am
Top posting users this month
Who is online?
In total there is
1
user online :: 0 Registered, 0 Hidden and 1 Guest :: 1 Bot
None
Most users ever online was
108
on Sat Oct 14, 2017 12:04 am
Personality and the Basics
Name:
Keys of Pathiel
, less commonly know as
Ash'heal
, self-proclaimed Champion of The Divinity, Knight Crusader to the reign of Pathiel, Angel of the Seventh Heaven, Enforcer of the Ten Mortal Laws.
Gender:
Male.
Type:
Nordic Wyvern.
Species:
Greater Seraph.
Age:
1,520.
Date of Birth:
July 7th.
Personality:
Prideful and shaped by his own bigotry, Keys has been corrupt and distorted from his humble beginnings to his now apathetic and cynical self. He fails to realize himself as he is guided down an uncertain road, blinded by purpose and fanatical religion. And he watches with no objection as he falls asunder like soft clay and is built back up with what is not he in truth.
Prejudiced, intolerant and narrow-minded, those that do not hail to his species or religion, Keys will push away. To them he will become aloof and standoffish, or in many cases domineering. For a while he will remain truculent and challenge those he brands as "Infidels" "Idolaters" or more commonly "Heretics", be it with subtlety or confrontation, though there are occasions where he learns to put aside his bitterness.
Keys being as impudent as he is, has never had close company. The majority of his lifetime he's been austere toward the rest of the world; his feelings locked tight behind vigilance and plastered over by childhood discipline. He's become misanthropic and reclusive, shutting out everything with stubborn unwillingness. It would not be a stretch to say he's forgotten how to enjoy company. Family is a distant memory, though how could he remember something he no longer knows?
Contrary to what one might believe after meeting him, Keys is no fighter. He brazenly confronts, though truthfully shies away from getting physical. He certainly won't let anyone think so, however and instead tries to subtly avoid it instead.
(Will expand upon in the near future.)
Hobbies:
Crusading in the name of Pathiel, documenting the tales of his quest of crusade and his visions of Pathiel and intently studying 'holy' magic.
Likes:
Pathiel, the familiar smell of old parchment and ink, dim candle-lit caves, isolation, anything ancient or archaic, fish, the salty ocean breeze, gloomy days, waves crashing against the rocks, overlooking the horizon.
Dislikes:
Heretics, other dragons, leaving the comfort of his cave, puns and unfunny jokes, other religions, 'sins'.  
Fears:
Limbo, death, the non-existence of his god, disappointing his god, being abandoned by his god, disappointing others, being abandoned by others, socializing, family, females, slugs.
Origin, Culture, and Family
Place of Origin:
Astuwaka Fialo, in a mountainside temple, location unknown.
Tribe:
Rogue.
Position:
None officially, though he claims to be Pathiel's champion.
Language:
Aleeshi; an archaic language developed by the ancient Aleeshi people, though it's largely been lost to time/Universal.
Home:
In a cave on a cliffside overlooking the sea, hidden by outcroppings in the rocks. The interior is rather cluttered and disheveled, with books, scrolls and trinkets scattered around the floor and piled up the sides. The walls are covered from wall to ceiling in runic etchings and crudely drawn sketches of Pathiel depictions (all very disturbing). In one corner there is a nest comprised of ornate pillows and exotic rugs, lined with feathers and clumps of fur. It appears that Keys does not practice general hygiene..
Parents:
N/A.
Siblings:
N/A.
Relatives:
N/A.
Mate:
N/A.
Offspring:
N/A.
History:
Keys (then known as Ash'heal) was an Aleeshi knight crusader; a descendant to a long line of respected and feared magic-wielding warriors that carried the name of Pathiel into battle and brought death those they saw unworthy. They belonged to the zealous Aleeshi tribe and lived in solemn oath not to stray awry from their duty. Thus, they were forbidden to have offspring, claim mates or remain with their families. Their lives and livelihood belonged solely to Pathiel. Ash'heal was the last of his tribe to be knighted, while the tribe had begun to dwindle in number. Though he had become the dream of any aspiring Aleeshi, he still felt incomplete. As if his life did not lie in the path he had been given.
His intuition proved correct when an Aleeshi seer told tale of a 'vision' she had been given by Pathiel himself that prophesied Ash'heal as his divine champion. Divine Champions had scarce appearances in Aleeshi history, though they were of great heroes. These champions were Pathiel's chosen acolytes who's purposes were to explore Nuira and spread his great name. Though it proved generally unsuccessful, they were still revered among the tribe. Ash'heal was titled "Keys of Pathiel" and rigorously disciplined. A part of him, however, was lost along the way; an unfortunate sacrifice.
The Aleeshi tribe no longer exists and it's history lost to time, though Keys still carries his burden, desperate to trigger it's revival. Lest his purpose be lost as well..
Physical Appearance and Accessories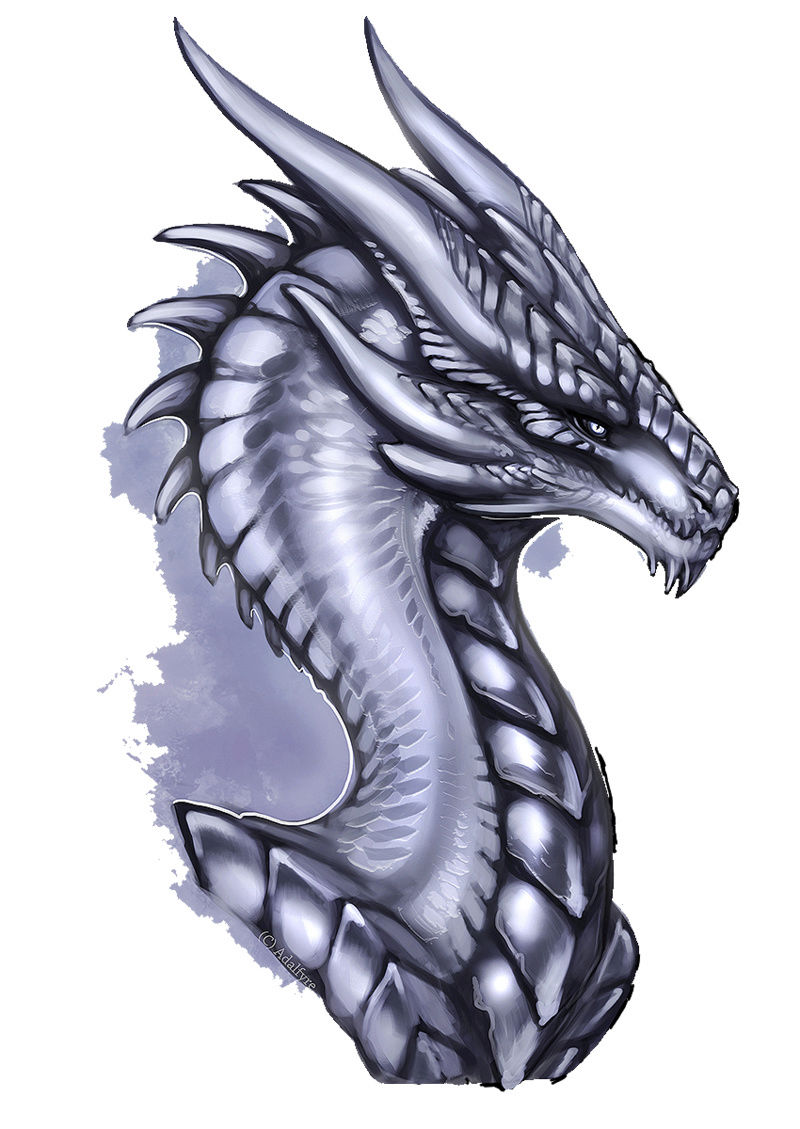 Height:
68ft.
Length:
182 ft.
Wingspan:
160ft.
Scale/Fur/Feathers:
Most notably, Keys is a beautifully stunning silvery white. His scales are metallic, like glistening drops of mercury or tear drops of fallen stars. They are firm, but not hard and do not serve as effective armor. His underside, however, is shielded by large plate scales, which are shiny and silver like polished metal. They are extremely hard, though not impenetrable and have gaps between the plates where a talon could hook. The scales on his head and horns are dense and also durable, so as to protect his skull from high impact.
Eyes:
Keys' sclera is dark and becomes a darker blue ring in closer proximity to the iris. His iris are a chillingly captivating light silver, complimenting the darkness that surrounds it.
Accessories:
Keys wears golden bands branded with runes cuffed around his horns. These bands serve no purpose other than cosmetics, custom to the Aleeshi. He has piercings on the membrane on his wings, all golden hoops. They, again, serve only cosmetic purpose.
Armor:
N/A.
Horns/Spikes:
Keys has a set of two large horns on his head, including two minor horns that rest just below them. He lacks spines along his back, but has a handful of spikes on his crest.
Overall Appearance:
It would not be inaccurate to call Keys attractive and alluring. His regal physique and elegant stature does well to please the eye and the sophisticated curvature of his neck gives a sense of dignity and aristocratic nature. The features of his face are all appealingly refined; his eyes bold like sunken pearls, complimenting the ridges of cartilage on his pronounced cheek bones. His chin covered in small feather-like sensory organs, which are highly sensitive and bring pleasure if rubbed. Keys head is held high and posture is maintained effortlessly, which is genetic to his species. His wings are double-set, which means he had two sets of wings layered over each other; the primary, which are what he uses to walk while grounded and the secondary, which are slightly smaller than the primary. While not in flight, his secondary pair of wings folds tightly against his primary set. In flight he can furl and unfurl these secondary wings at will, though their only use is while flying in place. The interior of his mouth is dark purple, though it has white discoloration (or vitilgo) in some areas.
Abilities and Strengths
Abilities:
N/A
Strengths:
Keys can easily keep a level head while fighting, allowing him to overcome the strife that could cloud his judgement. Keys is also rather slippery, thanks to his smooth scales and lack of excessive body spikes. This means he can often slip free from underneath even the heaviest of dragons. Despite his inane ramblings, Keys is quite intelligent and will use his smarts to out-strategize his opponents.  
Weaknesses:
Aside from his stomach and head, Keys' scales are soft and rather easily punctured. This gives him a disadvantaged when fighting tooth and claw, so he stays his distance. Keys is not necessarily a "strong" dragon, even for his size. So getting up close and personal with any dragon larger than himself would be a desperate tactic. Keys is at a severe disadvantage on the ground. As a wyvern, he walks with his wings and hind legs instead of four legs like most draconiforms, so he is unable to move with much grace or speed, handicapping him while grounded. The sensory organs on his chin are highly sensitive and if scratched or even touch in the wrong way, could be a great deal painful for him, leaving him with a severe weak spot. Keys lacks pigmentation, thus prolonged or direct exposure to the sun can cause irritation and sometimes even pain. To avoid this, Key's will wet himself down in rivers.
Fighting Style:
Keys' needs to remain in the sky whenever possible, though not so much as to drag his opponent into the sky with him. Though when does engage in full on aerial combat, Keys' is a formidable foe. From a distance he'll attack with spells and magic, avoiding the clutches of his opponent whenever possible. He'll only become physical when desperate or forced into a corner. He'll take any chance he is given to make distance between them.
Magic:
Keys practices the holy magic of Ancient Aleeshi; A magic that uses the heat and purity of light against whomever the wielder desires. It is a lost art and has mostly been forgotten to time, it's true power can no longer be replicated, though it still exists in a less powerful form.
Rage of the Seventh Seraph
Keys gathers holy energy within himself; a reservoir of magical energy and releases it in the form of a beam of brilliant light toward his opponent. This can only be achieved after gathering enough energy and reserving strength, which could take several turns.
The end result is powerful and burns whoever it hits with intense heat, which could cause painful burns, given it hits its target. The attack can be dodged.

Spears of Repent
Keys molds his holy energy into the form of spears, which he can clutch with his talons while flying and use as a polearm or manifest under the ground in the immediate area to thrust out unexpectedly and hopefully strike his opponent. These spears have a physical form, so they can cut and impale like regular weapons, but they also burn intensely (yes, they scorch his talons). However, when conjured in number, the spear shares magical energy between each of its manifestations, meaning they loose it's ability to wound. Thus, the ground attack is a great deal less powerful than Key wielding a single spear as a weapon would be. It's a more so blunt attack but gives an opportunity for it to hit more than once in multiple areas.

Blessing of the Cherub
Though it takes up a fair deal of magical energy, Keys can heal minor wounds in battle. A soft glow radiates from him, using holy energy to alleviate his pain and mend small afflictions to give him a bit of a wake up call in the middle of a fight. Unfortunately, the spell takes time to cast and he is still vulnerable to attacks while he's healing. This ability gives the opponent the decision either to take the time to regain strength or attack while he is at his weakest.

Pathiel's Mourning
Small (about 7ft each) dragon-like creatures made of stinking tar rise up out of the ground underneath the enemy's feet like zombies of limbo, wailing like agonized animals, in a group of around 7.  They latch on and stick onto the opponent, though they do not seek to wound. Instead they distract and temporarily immobilize Keys' challenger while he either closes in to attack or heals himself from afar. These only work once a fight though, since they can easily be avoided if the opponent expects them. The longer the duration of the cast, the more energy used.
Last edited by Keys on Fri Aug 04, 2017 2:48 pm; edited 2 times in total
Oh boy, here we go.

First of all, I would like to make you aware that this site has a very extensive lore, and while I don't have a problem with the Aleeshi being implemented into it as some old clan or something, I would just like to make sure they aren't around today, or what their location would be, or where this Pathiel is located in relation to Nuira. We've got plenty of continents to chose from. <3

Also, for your magic section, I would be more specific. It's all fine and good to say you possess ancient Aleeshi holy magic, but that doesn't tell us what it does. So if you could elaborate on that, it'd be great.

As for your abilities, I would dial down your Rage of the Seventh Seraph a bit, make the scalding a bit less severe.

I would also like to note that your 'abilities' seem to be more magic, at least, considering you cast it and it seems to use up magical power. I would also specify how big your tar monsters are, and how many you can summon at a time.

Bump when edited.
I would lower the number of creatures to about 5-7, and that should be good.



Status

:


Posts

: 124


Join date

: 2016-12-16


Location

: On a rock floating in space



Similar topics
---
Permissions in this forum:
You
cannot
reply to topics in this forum