Latest topics
»
Nighttime Hunt (Open)
by
Nova
Yesterday at 12:59 pm
»
Suspicious Scents (Open to All)
by
Whispering Soul
Sun Sep 15, 2019 7:34 pm
»
Only Human (Open)
by
Whispering Soul
Mon Sep 02, 2019 2:16 pm
»
Sunrise
by
Savan
Mon Sep 02, 2019 5:32 am
»
Leavin' for a Bit
by
Oculus
Thu Aug 15, 2019 9:21 am
»
Cho'ska
by
Thorn
Tue Jul 30, 2019 5:32 pm
»
Kimerth Tallihar
by
Kimerth
Sun Jul 28, 2019 8:18 pm
»
Draconifom Species Creation
by
Nova
Sun Jul 28, 2019 7:51 pm
»
Erin Tallihar
by
Kimerth
Thu Jul 25, 2019 4:03 pm
»
Juneosiren the Storm Siren *Needs Approval*
by
Whispering Soul
Wed Jul 24, 2019 10:56 pm
»
Nova
by
Oculus
Fri Jul 19, 2019 9:52 pm
»
Time Heals (Savan)
by
Solarlight and Darksky
Fri Jul 19, 2019 5:31 am
»
Sisoldrea, realm-jumper [updated, needs approval]
by
Oculus
Wed Jul 17, 2019 8:38 am
»
Kyuurei, the other one
by
Kyuurei
Sun Jul 14, 2019 1:38 am
»
An Awkward Meeting (Private Blue Streak/Caramina)
by
Savan
Sat Jul 13, 2019 10:51 pm
Top posting users this month

Personality and the Basics
Name:
Athraeni Krin'Lein Rivan'a Ouna Siisi
Nickname:
Arcke
, Akky
Gender:
Male
Type:
Western Dragon
Species:
Unknown
Age:
"Young Adult"
Date of Birth:
March 26 (Claimed)
Personality:
Akre is a unique dragon. He's very confident and always puts on a brave face even when everything turns against him. He can easily be described as hot-headed and remains fairly immature despite his potential in terms of intelligence. He lacks patience and social awareness, sometimes incapable of picking up on queues from friends. On the other end of the spectrum, he is surprisingly modest and while he won't deny feats and praise, he's quick to pass off any praise to his friends and generally dislikes being thought of as more than he is even when it's warranted. Because of this, he's fairly good at speeches and could care less if he's talking to 5 dragons or 1000.  
As a given Akre loves flight and will do pretty much anything he can to do so. He likes socializing, but as outlined above, can be fairly dense. This is emphasized by his lack of formal education and the small language barrier with him and other dragons as he's self-taught. It is for this reason that when he socializes, he would emote a lot more than other dragons much like a feline would.
Akre is fairly peaceful for a dragon, avoiding conflicts as much as possible and even acting as a peacemaker between disputing dragons whenever possible due to never really believing in anger. This stems from his lifestyle of respecting the lands and environment. The side-effect of this personality trait is that when he gets angry, he gets extremely angry to the point that it's scary. As a leader, he is the inspirational hopeful type that'd preferably lead others on the frontline.
Within combat, he is a relentless fighter in combat and loves to stick to the sky where he's best suited. He makes a great scout, bomber and dog-fighter and while he lacks in strategy for the most part, he picks up on tricks quickly and is easily adaptable and can quickly change plans on the fly.
Hobbies:
Athraeni loves flight, no doubt. He practices honing his skills, tries to increase his speed even further and to push the boundaries of how far into space he can get to. To this end, he can be commonly found either in the sky or flashing through a forest at blinding speeds. He sometimes stops his adrenaline rushing flying in favour of simply exploring and learning about the world; usually attempting to learn new languages by his lonesome.
He likes pushing his body to its very limits; fitting with his intense adrenaline rushing lifestyle. He has been seen pushing how long he could hold his breath, how high he could fly, how much he could lift and what he can crush with sheer biteforce whilst feeling a seemingly more potent version of "Runner's High".
Likes:


Flight: A no-brainer, Akre adores the art of flight and very respectful of it and those who partakes in such activities. He enjoys going at break-neck speeds or relaxing while letting the winds take him where need be.

Exploration: Akre likes exploring. Extremely. Alluding to his mostly wasted potential in intelligence, he is fascinated with the unknown, respects it and seeks to know more. To this end, he has went diving, cave exploring, or plain experimenting with different things such as different acid's effects on different materials. To add, he has learned how to speak and pick up on several languages that the dragons speak from normal interactions.

Singing: Despite Akre's fairly immature personality, Akre has enjoyed singing for people. Because of his naturally large vocal range, he is capable of reaching ranges capable of sounding like a beautiful dragonness or a graceful swan. He usually makes his friends this way in the wild, with some dragons even mistaking him for a female at first due to his unknown species.



Dislikes:


Death: While he sees of death as a necessary part of life, he still hates the very thought of it. Due to his mostly isolated lifestyle for most of his entire life, he has developed a hunter-like mentality where no kill's body should ever be wasted. This has lead to Arcke creating unique yet nutritious ways to eat normally inedible body parts of animals as any required deaths should be used to it's fullest extent.

Forceful Actions: As he has great respects for the Lands and it's inhabitants, if he sees a dragon or person being forced to do things against their own will, he will instantly show some form of dislike for it regardless of which form it takes.

His History: He has particular dislike for his own history and family particularly because he simply does not know it. He lacks any memory of a father, mother or sibling and isn't even sure about his own dragon species/archetype.


Fears:


Insanity: Akre prides himself on his indomitable will and willpower and as such he fears the insanity and the losing of his mind since, to him, his mind and willpower is the one thing that allowed him to stay alive.

Love: While not of his own will, Akre fears love. While he isn't aware of it and will be completely fine showing affection moments before, if Akre realizes he's showing affection or is being loving, something inside of him gets triggered on and he gets flashes of imagery not known by him and displays signs of the condition PTSD.

Fire: For no particular reason that Arcke will tell, he has an extreme fear of raging fires. He is able to handle smaller, controlled fires well enough but larger fires that resemble the ones of a burning forest almost cripples him into fear. This fear is an irrational one as he recognizes his fears are mostly unwarranted but nonetheless strikes fear in him. This can be debilitating in battle as Fire Breath is one of the most common forms of attacks between Dragons.


Origin, Culture, and Family
Place of Origin:
Unknown Lands
Tribe:
Rogue
Position:
N/A
Language:
Rough Universal and Ki'shin, knows light Xøyan, Arretiz and Aquatic, very roughly understands Urisa
Home:
Akre lives in an absolutely gigantic multi-tree home made after several years of clawing away and carefully designing and nurturing it. This tree has a hollow spot acting as his general room/entrance that is connected to another hollow interior which is the equivalent of a bed. This tree home is located just off on the peninsula on Shveki, hidden by smaller trees just large enough that you'd think his home is just an overgrown tree that's hidden in the crevice between mountains to be even more hidden from prying eyes.
Parents:
N/A
Siblings:
N/A
Relatives:
Potentially Night fury-type dragons
Mate:
 N/A
Offspring:
N/A
History:
Not much is known about his history, as he either doesn't want to say or he legitimately doesn't remember.
For most of his known life however, he's been isolated within the area around where his present-day Home is with little to no contact with other Dragons. It was only after an unspecified amount of time did he teach himself the languages of some of the Dragon Tribes by listening in on passing-by Dragons and listening in on their conversations and even then, would prefer to emote rather than speak.
Eventually he found the tree that had seemingly grown alongside him; growing larger as he did mentally. He would spend years of his life then nurturing this still-growing tree until it eventually grew to the size large enough that it became his permanent residence.
As the tree grew larger, so too did the life around it to the point that the area surrounding the tree and between the mountains became it's own small isolated ecosystem of which Arcke survived upon and is where he grew to respect the Land as he witnessed the development of this ecosystem first-hand.
It was only when he was overly content with his small home that he yearned for more; yearned for contact with others and to explore beyond the reaches of his small ecosystem that held more to life. More specifically, he yearned for the knowledge of his family and their whereabouts as few dragons talked about when he listened in on their conversations.
Physical Appearance and Accessories
Height:
20-26ft (Depending on stance), 35+ (on hind legs)
Length:
48ft
Wingspan:
60ft on Average; 96ft at normal maximum extension
Scale/Fur/Feathers:
Akre's scales are diamond-shaped and varies in texture and flexibility depending on the body part and on what adaptation Arcke changes it to. The colour varies as well but not nearly as drastically; staying in the blue spectrum.
Eyes:
This also varies but much less drastically. It is a generally light blue in colour and described as very symmetrical and extremely beautiful to look at, almost hypnotically so. It resembles that of a feline with the iris being very narrow when focused and blocky and adorably large when normal.
Accessories:
None, mostly since most objects he has is left back in his home.
Armor:
None
Horns/Spikes:
A very overlooked feature is two "Pikes" on the hind legs. While they may seem harmless, they are sharp and durable enough to act as small knives. Other than that, Akre lacks spikes or horns.
Overall Appearance:
Akre has the design very reminiscent of a Night Fury. It is very streamlined and extremely aerodynamic and, with some changes, hydrodynamic. While his body seems frailer than most, upon closer inspection, Akre's body is very muscular and is clearly built for short combat and flight. Another notable feature are paws that are very posable; much better than most dragon's paws in comparison. This allows him to pick objects up and do activities that requires more refined movements that usually require posable thumbs. His teeth are very symmetrical and are made for slicing through flesh with extremely sharp ends. His utterly massive wings varies in appearance depending on the changes applied but are generally looks very pleasing to the eye as it's symmetrical as well as it's shade of blue.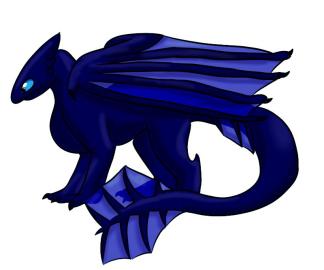 Abilities and Strengths
Abilities:


Blood Adaptation: The main feature of Akreious is adaptation. Akreious can technically change any part of his body to his wish, but the larger the change, the larger the time it takes for it to start its effect. While this can give Akre small boosts in combat, it is generally used elsewhere due to its versatility. Things like changing the chemistry of his lungs to hold his breath longer, stave off fatigue, putting the body into a "hibernation" mode to fight infections and poisons better are all well within his capabilities. These changes can only take a few seconds while changes like completely changing the design of his wings to better suit long distance or burst speeds, changing the sharpness and lethality of his teeth and claws or healing a fatal wound can significantly longer depending on the severity of the change. However a lot of these changes are instinctual rather than intentional which leads to mishaps and exploitable weakness where it could've been avoided. Due to the nature of these changes, such as changing of the structure of his lungs to better suit water, his mimicry and adaptations won't be as good as a native Dragon that already had those features from regular evolution (Like a water dragon) unless he spends an extended period of time refining these changes. And while he technically can change his internal organs, besides his lungs, he's never been able to change his internal organs and never will as he won't want to try nor can with the body straight up not allowing it, like how you can't just force your heart to stop beating right now.


Medicinal Saliva: Akreious' saliva has healing and medicinal properties. It is surprisingly clean and has anti-bacterial and anti-viral properties as well as accelerates the healing of wounds to much faster than they would normally with small wounds such as scratches healing in only a few minutes (With the effectiveness varying from 2x all the way up to 5x depending on the wound) and helping larger, more massive wounds stay clean, healthy and infection-free, although only speeding up healing by a very negligible amount. When the saliva comes in contact with infections such as viruses or bacteria, it usually feels "cold" which numbs the wound a little. The Saliva doesn't help with natural illnesses such as cancer or the like due to the fact that there are no viruses or bacteria involved.


Fireblast: Akreious can technically produce fire breath up to possibly 1,000 degrees celsius, but Akreious' attacks are generally fired as a fireball with less heat at only in the 600-800 degrees celsius range. This is because it's fired with more speed and force than most attacks to create an explosion rather than to roast the target. The fireball is usually launched as a blue projectile much like Nightfuries but is sometimes seen in purple or red varieties with no real difference in effectiveness. The range of these fireballs are much further than most would think, capable of travelling 200ft and generally stay at the same range of power. Any further, and the accuracy will plummet, causing it to veer off-course in ways that cannot be predicted. However, the fireball's effectiveness is technically still just as powerful. In a sense, this is an advantage yet also an disadvantage as missed shots can easily cause collateral damage as well as cause huge fires without Akreious intending it. Stronger fireblasts with more force behind them that are used on larger dragons and to kill usually have a charge-up time anywhere from 2 seconds to 5 seconds; giving the opponent a chance to dodge. Akreious' firebreath equivalent only travels about 15~20ft before it becomes completely ineffective. This is possibly due to his inexperience with regular fire breaths.

Strengths:


Flight: By much training and practice, Akreious is extremely adept in anything involving flight. He is faster than most dragons, capable of reaching speeds of 100mph and even the maximum 120mph before his body hits the maximum speed a dragon could go. In less race-like flight, Akreious is also much better at turning than the norm, making turns that some describe as simply implausible which makes him a deadly asset in dog fights. He has aim better than most while in the air as well but is hesitant to make direct hits due to his pacifistic mentality. A disadvantage though is that since he changes the shape and design of his wings to better suit his present situation, he isn't able to both be extremely mobile and fly at maximum speed at the same time. Whilst dive-bombing or charging forward, hitting maximum speed at both, his wings can be heard creating a loud "screeching" sound; the same sound the Night Fury makes.


Sharp Mind: Different from pure intelligence. Arcke is able to pick things up and apply them much faster than most other dragons. If it weren't for Akreious' refusal to formally learn things, this advantage could be labelled as simply "Intelligence". Akreious' sharp mind allows him to adapt his plans, movements, strategies and pick up on patterns and tricks which makes him a viable scout.

Speed: Akreious' game is speed. Even when out of the air, Akreious has a surprisingly high running speed and due to the design of his paws, also extremely fast at climbing and turning while on the ground because of his paws naturally having a semi-posable thumb. Due to Akreious' adaptations to high speeds, his reflexes are also fairly high; capable of reacting to projectiles such as arrows and other fireballs.

Enhanced Senses: Taking one look at Akreious and one would be able to infer that he naturally has higher senses than most. His "ears" are very large and are able to pick up on more sensitive frequencies and hear further, his nose is also notably larger and sharper; allowing him to hunt by smell like blood hounds and his eyes are larger than most dragons of his size and can see in darker/lighter light than what normal eyes would allow him to.




Last edited by Akreious on Mon May 20, 2019 8:25 pm; edited 10 times in total



Status

:


Posts

: 4


Join date

: 2017-07-31


Age

: 21


Location

: In the skies like a Majestic Eagle


Rank

: N/A


Tribe

: Rogue



Bump because Ocu told me to



Status

:


Posts

: 4


Join date

: 2017-07-31


Age

: 21


Location

: In the skies like a Majestic Eagle


Rank

: N/A


Tribe

: Rogue



I don't see anything off, so 1/2 approved.



Status

:


Posts

: 139


Join date

: 2016-12-16


Location

: On a rock floating in space






Status

:


Posts

: 629


Join date

: 2016-11-10


Rank

: Huin


Tribe

: Kaamil




_________________
xoyan

other



Status

:


Posts

: 65


Join date

: 2016-11-15


Location

: Deep within Xoya.


Rank

: General of Defence


Tribe

: Xøya



Edits:

1. Made it so his Fireblasts are indirectly nerfed (His Fireblasts now require him to eat and digest a specific type of rock in order to "Fuel" his very powerful Fireblasts; giving him a soft shot limit that can come up in RPs when the plot calls for it)

2. Changed his length from 50ft to 48ft

3. Made it so the cold has a more adverse affect on him (Giving him a more exploitable counter)

4. Small Backstory addition

5. Literally cancer as a disadvantage for the usage of Blood Destruction (So as to make it true to it's name)

6. Made it so he has a fear of large flames



Status

:


Posts

: 4


Join date

: 2017-07-31


Age

: 21


Location

: In the skies like a Majestic Eagle


Rank

: N/A


Tribe

: Rogue





Similar topics
---
Permissions in this forum:
You
cannot
reply to topics in this forum