Latest topics
»
Haven
by
Ignacia
Yesterday at 11:29 pm
»
An Aspiring Adviser [Private - Solarlight and Darksky]
by
Solarlight and Darksky
Yesterday at 3:46 pm
»
Two Rulers for One. (Open, Stormcallers.)
by
Haven
Yesterday at 8:19 am
»
Ruthless
by
Artemise
Yesterday at 12:24 am
»
Frost
by
Oculus
Fri May 18, 2018 12:46 pm
»
Crowned (private/ask before joining)
by
Solarlight and Darksky
Fri May 18, 2018 12:37 pm
»
Snowy days (Private with Sapphire)
by
Arkhor
Fri May 18, 2018 3:57 am
»
Zollunis, The Life Giver (Needs Approval)
by
Oculus
Fri May 18, 2018 12:09 am
»
*bows* Hi!
by
Artemise
Wed May 16, 2018 1:48 am
»
Draglos Hym [WIP]
by
Draglos
Sun May 13, 2018 11:00 am
»
What The Heck (Priv/Ayato)
by
Athena
Sun May 13, 2018 10:25 am
»
Ayato
by
Oculus
Sat May 12, 2018 8:15 pm
»
Azriel of the Xoyans
by
Oculus
Sat May 12, 2018 8:13 pm
»
Kyuurei, the wicked Refrigerator
by
Artemise
Sat May 12, 2018 3:42 am
»
Viddera, NightStalker NEEDS APPROVAL
by
Oculus
Sat May 12, 2018 12:41 am
Who is online?
In total there are
3
users online :: 0 Registered, 0 Hidden and 3 Guests
None
Most users ever online was
108
on Sat Oct 14, 2017 12:04 am

Personality and the Basics
Name:
Solarlight and Darksky
Gender:
Male and Female respectively
Type:
Western Dragon
Species:
Solar-Lunar Dragons
Age:
21
Date of Birth:
4-17
Personality:
Solarlight:
Solarlight is the more aggressive of the two. Despite this, he tends to be friendly, or he would be if him and his sister had friends. He can be hardheaded, and will argue a point until he is either proven wrong, or the other dragon gives in. The only dragon he doesn't do this to is Darksky. He also care about his sister, and would care about friends if they really had any.
Darksky:
Darksky is a quiet bookworm of a dragon, and while her brother has more knowledge on dragons and tribes, she knows more about history. Unlike Solarlight, she will often not say anything when someone disagrees with her. She is also friendly, even though she has no friends. Even though she's friendly, she's not quick to trust others. She also cares about her bother, and would care about any friends they'd make.
Hobbies:
Both: Flying, learning magic, and annoying Scholars with questions.
Solarlight: Honing his magic, and learning about other dragon species.
Darksky: Reading, and listening to stories.
Likes:
Both: Safty, flying, friendly dragons.
Solarlight: Magic.
Darksky: Stories.
Dislikes:
Both: Being bullied.
Solarlight: Being wrong, fighting without a reason.
Darksky: Being the center of attention, being told do something she disagrees with.
Fears:
Both: Losing each other.
Solarlight: Being responsible for someone's death.
Darksky: Drowning.
Origin, Culture, and Family
Place of Origin:
Unknown.
Tribe:
Stormcallers
Position:
Technically just citizens, but act like Scholars.
Language:
Universal, Xøyan, and Kishin.
Home:
Stormcaller territory.
Parents:
Various Scholars, true parents unknown.
Siblings:
Each other.
Relatives:
Unknown
Mate:
No, but each would like have one.
Offspring:
No.
History:
Solarlight and Darksky have had a rough life. They were left at the Twilight palace as hatchling, still too young to care for themselves. The only hint of who they were was left in the form of a note with their names. The pair never had true parents, with a group of Scholars deciding to care for the little hatchlings. The only thing that was known about them was that they were Solar-Lunar dragons, and one of their parents was a good flier.
As they grew, the pair were often bullied, which made them develop reclusive personalities. This also drove them to try to find out about their real parents, but this once led them to dead ends. The time did show them what they enjoyed at least, and while they are citizens, they are together known to be quite knowledgeable on history, dragons, magic, and stories.
Physical Appearance and Accessories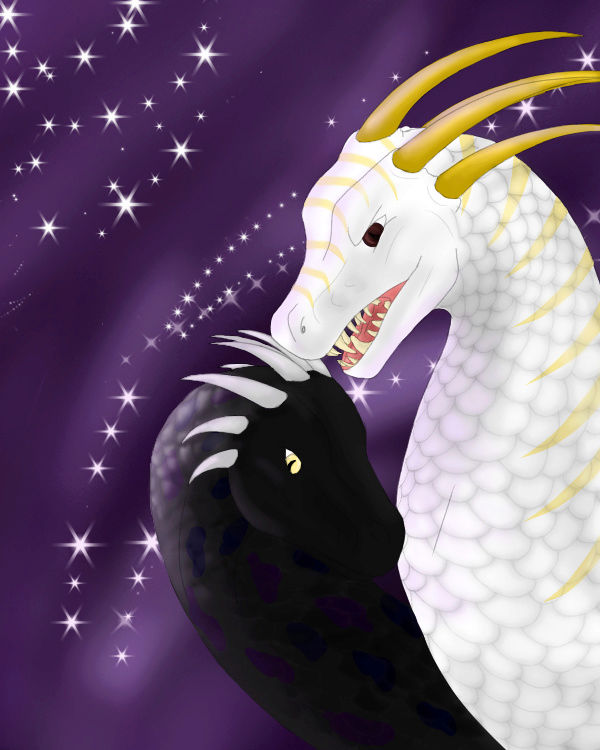 Image by Lexia.
Height:
50 ft
Length:
80 ft
Wingspan:
80 ft
Scale/Fur/Feathers:
The pairs scales are split down the middle of their shared body. Solarlight's are white with a pale yellow stripe pattern, and Darksky's are black with navy blue and dark purple cheetah spots. Their tail starts split, then fades into a lighter purple color.
Eyes:
Solarlight: Maroon.
Darksky: Pale yellow.
Accessories:
None.
Armor:
None.
Horns/Spikes:
Solarlight: Four long horns on the back of his head.
Darksky: Eight short horns crowning her head.
Overall Appearance:
The pair are a two headed dragon, sharing their body from the neck down. Their wings are translucent, and their scale color is split down the middle.
Abilities and Strengths
Abilities:
Telepathic Link: The twins can hear each others thoughts, and communicate without speaking. They can also block each other out.
Strengths:
Both: Expert fliers, skilled magic users.
Solarlight: Do to knowledge on other dragons, he can relate to them more easily.
Darksky: A near perfect memory.
Weaknesses:
Both: Losing coordination, the center line of their body is more sensitive than the rest, weak the fire-based attacks.
Solarlight: Despite having strong magic, his jaws are weak, preventing him from biting into enemies.
Darksky: Has a low pain tolerance to the point of injuries that would just make a dragon sore being extremely painful for her.
Fighting Style:
If the pair have to fight, they keep their distance, and use their Light/Dark Breath to wear their opponent down.
Magic:
Light/Dark Magic Breath: This breath attack is the most powerful weapon at a Solar-Lunar's disposal. This breath is made up of magic energy fired out into a concentrated beam of either pale yellow, in male dragons, or purple, in female dragons, energy. This energy is mostly a concussive blast, though it also causes limited burning. This blast's strength depends on the size of the dragon, and reaches 200 ft. These beams can be held for around 10 seconds. It then takes 10 seconds to recharge. Despite the name, Light and Dark magic are no different for a Solar-Lunar, with the names only describing the color of the energy.
Telekinetic Magic: The pair can lift and move object up to half their size with magic. This requires more focus the larger the object is. Range of 150 ft.
Last edited by Solarlight and Darksky on Tue Feb 20, 2018 7:28 am; edited 5 times in total
You can create two apps for each of the twins if you want. Anyway, welcome to DH! There're a few edits for you to make:

Personality: Darksky needs one more sentence. Just one <3

Strengths: Both: Expert fliers, magic. -> Please explain magic is a strength. Is it that they're very skilled in controlling their magic?

Weaknesses: Please add/replace your current weaknesses with ones that are combat-related and can be exploited by any dragon. E.G, a weak limb, a soft spot, etc.

Also, Solarlight: Stubbornness.
Darksky: Shy, untrusting. -> These seem more like personality traits, unless you can explain how it's a weakness.

Magic: Please state how far their magic can reach.

That's all, bump when edited and PM me if you want to discuss something about your app.
_________________
"Here's my plan: I'm going to pretend not to know you, and you're gonna do the same. Sounds good? Alright, let's go."
--
Artemise's dialogue colour
_________________
"Here's my plan: I'm going to pretend not to know you, and you're gonna do the same. Sounds good? Alright, let's go."
--
Artemise's dialogue colour
Weaknesses:
Solarlight: Stubborn to the point of endangering himself and Darksky.
Darksky: Has a low pain tolerance.

I feel like both of these are more like traits. Stubbornness can lead any dragon to danger.
Low pain tolerance. I will accept it if you go into much more depth.

other than that, awesome job.



Status

:


Posts

: 60


Join date

: 2017-01-02


Age

: 16



_________________
"Here's my plan: I'm going to pretend not to know you, and you're gonna do the same. Sounds good? Alright, let's go."
--
Artemise's dialogue colour
Edits complete. Image of the twins added and credited.
_________________
"Here's my plan: I'm going to pretend not to know you, and you're gonna do the same. Sounds good? Alright, let's go."
--
Artemise's dialogue colour

---
Permissions in this forum:
You
cannot
reply to topics in this forum