Latest topics
»
Free Dragon Headshots (Drawn by Ink)
by
Alistair
Today at 2:45 pm
»
An Awkward Meeting (Private Blue Streak/Caramina)
by
Azreyus
Tue Jun 18, 2019 5:33 am
»
A message to be delivered [Private/Solar, Blue Streak, Whisper.]
by
Azreyus
Tue Jun 18, 2019 4:20 am
»
Made of Fire ♤ Molag Bal
by
Savan
Mon Jun 17, 2019 11:34 pm
»
Juneosiren the Storm Siren *Needs Approval*
by
Whispering Soul
Sun Jun 16, 2019 3:30 pm
»
Alistair - The First Light Fury
by
Alistair
Sun Jun 16, 2019 1:48 pm
»
Time Heals (Savan)
by
Solarlight and Darksky
Sun Jun 16, 2019 11:26 am
»
Status of Tribe Ki'Sha (Saiya)
by
Whispering Soul
Sat Jun 15, 2019 2:04 pm
»
Suspicious Scents (Open to All)
by
Thorn
Tue Jun 11, 2019 4:15 pm
»
Draconifom Species Creation
by
Whispering Soul
Sun Jun 02, 2019 5:30 pm
»
Azreyus, the General of Defence. [WIP]
by
Azreyus
Fri May 31, 2019 8:12 pm
»
Hello.
by
Oculus
Fri May 31, 2019 3:17 am
»
Skonis
by
Oculus
Wed May 29, 2019 4:25 am
»
Thorn
by
Azreyus
Fri May 24, 2019 4:58 am
»
Veokia, the Umbran Flame
by
Savan
Fri May 24, 2019 3:31 am
Top posting users this month

Personality and the Basics
Name:
Sisoldrea Northernwind
Pronunciation:
'Sigh-sol-dree-a'
Gender:
Female
Type:
Western
Species:
Istarian
Age:
2190 years
Date of Birth:
November 13th
Personality:
Sisoldrea is a sweetheart with good manners. She is both formal and playful, specifically playful with her closest only. Her kindness remains for everyone however, except for the withered evil of her original realm. In battle she's ruthless, knowing she's fighting for the good of her own or to put the restless finally to sleep. Since she is religious, Sisol takes generosity, death and the spiritual realms very seriously, wishing silently any dead a safe passage and giving anything she can, whether it would be a flower petal or the ancient shield of a hero.
Hobbies:
Sisoldrea enjoys both relaxing activities and the more thrilling ones. If she should mention a specific hobby, it would be exploring the unbelievable and taking a fun trip to the lake with friends and family. She also enjoys artwork, loving to paint anywhere appropriate whenever she has time to spare. In her home realm, praying to her favourite Goddess is a big part of her life. When realm-travelling, she still keeps this habit for occasional prayers and a blessing of guidance and good luck.
Likes:
Hugs, sunsets and flying together with her fellow dragons, or anything that can fly for that matter. Sisol also likes the water for it's enchanting beauty in the moonlight, and it's soothing movements. Rain is a great thing too that Sisol loves to watch, or even walk in. Her favourite food would be of course, fish.
Dislikes:
Repetetive sounds familiar to crunching, whispering and tapping. Sisol is a misophoniac and would rip apart a building from the rage she can feel from certain sounds. More minor things she dislikes would be clingy individuals that don't understand alone time, or thunderstorms and cold climates. To her, the winter tends to bring bad memories up.
Fears:
Sisoldrea is terrified of wolves, even if they're small or big. She does not have many good experiences with them in the past and the fear stuck from young age to ancient-hood. Other fears would be humiliation, social rejection and mirrors. Her fear of mirrors is rather complicated, while  the anxiety of being socially unaccepted is due to her past of being hid away from society due to her mutations of feathered wings.
Origin, Culture, and Family
Place of Origin:
A cold island, Trandalar in the realm of Istaria.
Tribe:
Rogue. Though in her home realm, she is of the Lunus faction.
Position:
Of course, no position in other realms. At home, a guard of a small desert town and 'realm-jumper'.
Language:
English and Norwegian.
Home:
Sisol is preferably nomadic, but enjoys staying around the J'a-nei desert since it reminds her of her Istarian home town.
Parents:
Two Istarian dragons, Zeresh and Fergus.
Siblings:
A younger sister, Sunstorm, and a non-mutated twin, Melania.
Mate:
A female Istarian, Winterfaith.
Offspring:
Three adopted children.
History:
Sisoldrea was born in Istaria on a permanently snowy island named Trandalar. She came from a regular, small family in a cave lair carved into a mountain. Her mother was a beautiful, yellow dragoness named Zeresh. And, the father was a courageous blue dragon of the name Fergus. Sisoldrea was born in the same egg as her twin, but only Sisol had unnatural mutations. Her parents theorised she must have been picked out by a trickster god to be cursed and hidden away from the community. So that is what they did to her, even if they so dearly loved her, isolated her from society and only let her play right outside the cave with supervision from one of them. Usually, it was Zeresh that watched the hatchlings while Fergus often was out trading and finding valuables for the family. Fergus had found a gift for Sisoldrea, a veil suited for adults and ancients but still gave it to her. In Istaria, a new way for dragons had evolved after the disappearance of their god, Drulkar. The only way for them to grow bigger, was through dangerous rituals. Sisol's parents were only of the adult form and would never dare to endanger their lives to become an Ancient. Sisol wanted to achieve that goal, and prove for once she could be better than just some cursed child they believed her to be. She wore the veil on her body and it would cover her biggest insecurity, her wings. It became her protection, it made her feel safer. Her bond to her twin and younger sister was unbreakable, and eventually they agreed to prove themselves worthy of becoming independent hatchlings ready to face the dangerous trials for adulthood, and eventually ancienthood. Melania stayed in the lair however, thinking it was a bad idea to sneak out without permission. Sunstorm and Sisoldrea set out and took a portal to another winter island. A pack of wolves hunted there, and Sunstorm thought they would be a great idea to bring home as proof they were strong hatchlings. It all went down hill, the two siblings were outnumbered and terribly injured. They had only learnt a simple healing spell that was no match against the many wolves that kept tearing up fragile wounds and limbs. Sisol and Sunstorm fled, knowing this was a huge mistake. The wolves followed and caught up to Sisol's little sister, taking her down to the ground and taking away her young life. Sisol was traumatized to check over her own shoulder, just to notice her sister laying lifeless behind. But, she had to keep running even for her stinging pain, in both her body and her heart..
Sisol eventually got out safe and healed herself up. And with the sadness that would never heal, she couldn't bare to go back home to look into her parent's eyes of heartbreak and disappointment. Sisol set out to a warmer island, where hatchlings would be trained and accepted, weak or not. Society judged her, but most accepting humans and dragons still took good care of her and she eventually grew up to be an intelligent, powerful ancient dragoness. Her veil stayed, now fit to be kept on her face. It was still her little protection against her insecurities, and became a big part of her well being. She had chosen to be of the Lunus faction, but it turned out to be not what she wanted. There was a choice between Lunus and Helian. The Lunus believed that dragons were higher worth than the bipeds, while the Helian believed that all the races needed to fight the evil Aegis together to succeed. Sisol still did not want to travel back to her Lunus parents, and instead went to the Barasavian desert to become a guard of a human town. She was introduced to their culture, and then submit her life to their goddess, Nyrevin. Sisol gained many friends during her trials, even a lover and created a new family, swearing to never see her original again. Then, the rare act of realm-travelling became an option. Sisoldrea tried it and never regret it. She was able to explore other worlds, meet new people, and safely return home if something was to take her life that was connected to the Istarian realm.(Painfully long, apologies)
Physical Appearance and Accessories
Height:
4 meters (Head to toe)
Length:
9 meters
Wingspan:
14 meters
Scale/Fur/Feathers:
Sisoldrea's scales are blue and with light blue fades on certain limbs along with speckles. Her blue feathers start on the base of her bird-like wings built for flying long distances easily.
Eyes:
Lavender purple with vertical pupils. Excellent vision during day and night.
Accessories:
Semi-transparent veil with a green crystal on her face. Leg protection and golden rings on her horns along with a spiraling, golden band on her left foreleg. On her right foreleg, she wears a claw of emerald and strong magics. To take things with her, she wears a type of backpack to keep valuables.
Armor:
In her inventory she keeps silvery purple armor embed with powerful magics to protect her in more ways than covering her body. But in foreign realms, some of this magic probably fades. Her emerald claw she always wears, is also used as battle gear.
Horns/Spikes:
On her head are pale, curly horns with tips that point upwards in the end.
Overall Appearance:
She's of average size and body type compared to other Istarian dragons. Her body is athletic and fit for both agility and strength. Down from the head and along the spine are fins that stop at the end of her tail that also has folding/controllable sails on the sides. With this combined, her tail can be used for both braking, balance and some simpler aerial acrobatics. On her legs, tail, wings, face and neck there is light blue fades with spots. The ones on her face could simply be considered freckles. Each claw has 5 toes/fingers, counting a useful thumb on the forearms.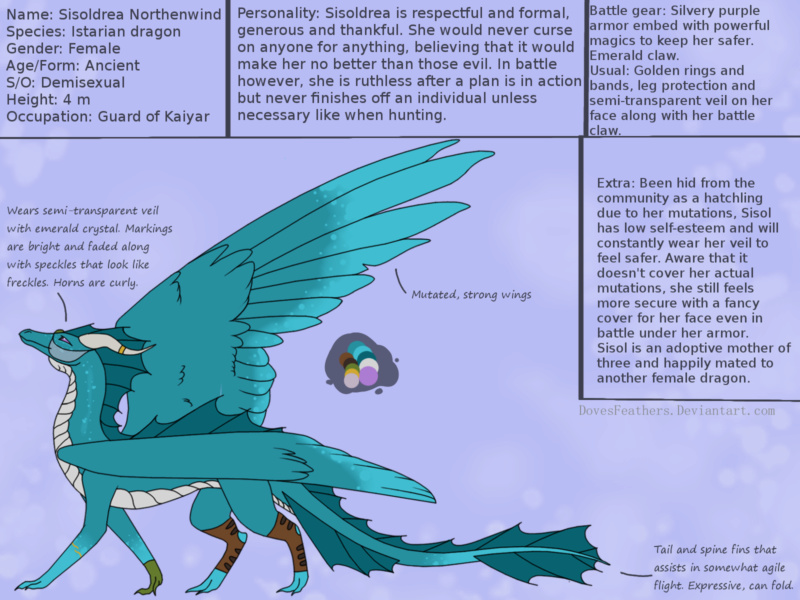 Abilities and Strengths
Abilities:
Multiple elemental breath attacks. In this realm, is limited to the use fire and acid. The acid attack is not capable of causing lethal injuries other than a painful 'sizzle', but are dangerous to the eyes. Her fire can become incredibly hot, but still far from melting metals. (1 post pause between each use)
Strengths:
Mental: Fearless - aware that if she dies she'll be back in Istaria. Excellent at keeping her calm in dire situations. Physical: Athletic - capable of great strength and speed. Powerful wings - great for aerial combat.
Weaknesses:
Words - Insults about her looks is enough to lessen her mental capabilities. Another weakness would be elemental attacks of nature types - such as attacks involving entangling vines. Her Misophonia - if sounds that trigger her are present before battle, it would be enough to worsen her calm completely and make her almost incapable of fighting with a leveled head. Removing her veil - Without the veil she wears under her face's armor, she'll be scared and less effective. Any phobia trigger will make her afraid and vulnerable. The realm's lack of primal air energies disallows her to use primal magic, a big part of her magical abilities.
Fighting Style:
Aerial combatant, magic wielder.
Magic:
Can heal herself and others. With the lack of primal air energies, this is a very concentrated act and needs a lot of her focus. These breezes and blue glows she creates to heal a single individual at once, gradually closes wounds and soothes pain. (If there's a fight, 3 post pause between each use. If it's a peaceful day, 1 post pause between each use.)
~
*Based on my own character used on the game Istaria*
Last edited by PeaceDove on Fri Jan 11, 2019 2:41 pm; edited 1 time in total



Status

:


Posts

: 2


Join date

: 2018-12-28



So sorry for the delay!

In Strength, what do you mean 'will go back to istaria'?

Otherwise looks all good!



Status

:


Posts

: 626


Join date

: 2016-09-06



What I meant by that, is that she knows she will be back in her home realm if she dies, and that would make her pretty much fearless in battle. (Though some instinctive fears will stay ofc, you can't really grow out of instinct right?

)
But - I don't want to make her OP with that either, if she dies she obviously can't be used again here ^^
Also, a new reference sheet is in the making for her and I hope thats okay. I don't plan to change anything other than to overall improve the style and add a bit more jewellery ^^



Status

:


Posts

: 2


Join date

: 2018-12-28



Art changes are fine, just credit the artist! And gotcha!

~1/2 Approved~



Status

:


Posts

: 626


Join date

: 2016-09-06





Similar topics
---
Permissions in this forum:
You
cannot
reply to topics in this forum