Latest topics
»
Sisoldrea, realm-jumper [updated, needs approval]
by
Oculus
Yesterday at 8:38 am
»
Time Heals (Savan)
by
Savan
Sun Jul 14, 2019 12:09 pm
»
Kyuurei, the other one
by
Kyuurei
Sun Jul 14, 2019 1:38 am
»
An Awkward Meeting (Private Blue Streak/Caramina)
by
Savan
Sat Jul 13, 2019 10:51 pm
»
A message to be delivered [Private/Solar, Blue Streak, Whisper.]
by
Savan
Sat Jul 13, 2019 10:02 pm
»
Suspicious Scents (Open to All)
by
Tharasis
Sat Jul 13, 2019 8:48 am
»
Status of Tribe Ki'Sha (Saiya)
by
Solarlight and Darksky
Thu Jul 11, 2019 10:39 am
»
Juneosiren the Storm Siren *Needs Approval*
by
Whispering Soul
Wed Jul 03, 2019 3:07 pm
»
Nova
by
Savan
Tue Jul 02, 2019 5:20 am
»
Lespernii, the Seedkeeper
by
Savan
Tue Jun 25, 2019 5:48 am
»
Free Dragon Headshots (Drawn by Ink)
by
Ink
Sat Jun 22, 2019 9:12 am
»
Alistair - The First Light Fury
by
Azreyus
Thu Jun 20, 2019 5:53 pm
»
Made of Fire ♤ Molag Bal
by
Savan
Mon Jun 17, 2019 11:34 pm
»
Draconifom Species Creation
by
Whispering Soul
Sun Jun 02, 2019 5:30 pm
»
Azreyus, the General of Defence. [WIP]
by
Azreyus
Fri May 31, 2019 8:12 pm
Top posting users this month

Personality and the Basics
Name:
Candy
Pronunciation:
Can-Dee
Gender:
Female
Type:
Western Dragon
Species:
Rainbow Dragons
Age:
313
Date of Birth:
November 8
Personality:
The biggest two things to know are that she's energetic and reckless. Of course she's also adventurous, lazy and child-like.  She is also quite reliable.  She tries to hide her tears when she cries, and is surprisingly good at it.  When she becomes angry she hides it behind playfulness.  She has a chaotic neutral alignment and is basically a hyperactive child.
Hobbies:
Candy prefers to daydream about her favourite book characters while staring into space.  She also enjoys doodling on almost whatever she has.  
Likes:
Candy enjoys almost every artistic activity.  Dancing, singing, drawing, anything.  She is amazing at many instruments because  she loves to learn instruments in her spare time.
Dislikes:
Candy can be quite territorial when it comes to sharing.  Sharing anything.  She hates sharing so much, whether it be space, items or friends. Candy also hates being ignored, though that mostly makes her more sad than angry.  
Fears:
Loneliness and small spaces are things that scare Candy.  This may have been gained from her time in captivity.She finds it quite easy to hide her fears, as she is a great actor.
Origin, Culture, and Family
Place of Origin:
Shveki
Tribe:
Rogue
Position:
None.
Language:
Every language.
Home:
Candy travels, no permanent home
Parents:
Unknown.
Siblings:
None.
Relatives:
None.
Mate:
None.
Offspring:
None.
History:
Lived a pretty normal life for her childhood until she discovered her candy powers.  When that happened, her parents turned her over to a group of scientists who wanted to clone her for her powers.  She held there for about 100 years and during that time she lost her memory and gotten cursed.  She escaped after one of  the scientists had snuck her out and gotten killed in the effort.  Now, she lives by herself traveling the world with no real goal or destination.  
Physical Appearance and Accessories
Height:
5 meters
Length:
10 meters
Wingspan:
10 meters
Scale/Fur/Feathers:
Candy is a multi-colored neon dragon. From her waist down, including her hind legs, spikes, and tail, her scales are pitch black. Her wings are scaled and have the same color scene as the rest of her body.  A bit of her right wing has also turned black from the  curse.
Eyes:
One eye is white with a pupil and one is completely black.
Accessories:
All Candy wears is a black stringed necklace with a 3-leafed clover pendant.
Armor:
Nothing
Horns/Spikes:
She has 2 horns on the top of her head that are half a meter long and are white.  She has spikes from the top of her head to the end of her tail that are about 2 centimeters tall and are white. From where her scales become black, her spikes also become black.  At the end of her tail there is a three spiked tail topper.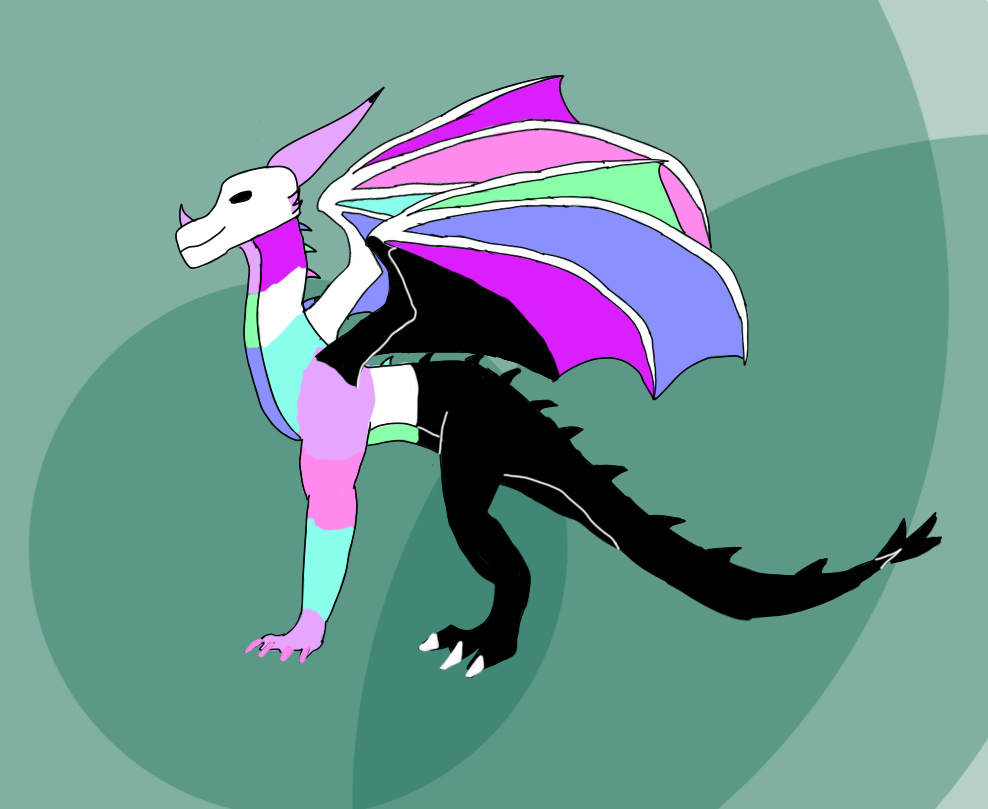 Abilities and Strengths
Abilities:
Candy can breathe pink fire which doesn't burn but instead gives others health problems.  She is also quite good at parkour.  
Strengths:
Candy is extremely agile and swift.  She has a lot of persistence but not to the point where she becomes stubborn. She is an incredible actor who can fool almost anyone.
Weaknesses:
Sometimes there will be a random pain where the curse takes hold.  Her magic will also sometimes malfunction, accidentally hurting someone with poisoned or explosive candy.  She can also be absent-minded and childish.  Candy is an idealist to the point where it can influence her view on things that are very obvious. One more weakness is she is unable to see colour.
Fighting Style:
While she prefers to use her magic for fights, she doesn't mind hand to hand combat.  Her fighting style is similar to one of a spy or assassin.  She fights with lots of tricks so she can outsmart the opponent, considering she doesn't have too much physical strength.
Magic:
Candy can summon any kind of candy including magic, edible, explosive and much more.



Status

:


Posts

: 5


Join date

: 2019-04-15


Location

: I forgot



Sorry for the delay! Welcome to DH, if you have any questions, just let a staff member know and we will help you as best as we can!

Language: Knowing all tongues is a strength, so make sure that is listed in your strengths!

Abilities: What type of health problems does her pink fire give? How long do the effects last?

Strengths: Mix parkour with swift and agile, doesn't need to be in abilities. Put persistence in personality.

Weakness: You have no mention of a curse anywhere that I can see, this needs to be further explained as to what it does/how often it is triggered. How often does her magic malfunction? Being an idealist should also be under personality.

Magic: How big of an explosion? What type of poison? All effects need to be listed out!

Bump when edits are made/explained!



Status

:


Posts

: 627


Join date

: 2016-09-06



Something just came up in my life so I won't be adding anything for a while. Feel free to add this to the inactive application section.



Status

:


Posts

: 5


Join date

: 2019-04-15


Location

: I forgot



Sorry to hear that. Focus on IRL stuff first, we will still be here when you get back. Just bump when you are done and I'll take a look at it. Hope everything goes well for you



Status

:


Posts

: 627


Join date

: 2016-09-06





Similar topics
---
Permissions in this forum:
You
cannot
reply to topics in this forum